If an employer begins to consider you seriously for a position, the company representative will ask you for your references. It's important to choose references who will do a great job of reinforcing the positive impression you've already made. Here are tips for picking the best references you can get.
It helps to think of your employment references with an image in your mind — the image of a three-legged stool. All three legs are critical to keeping the stool upright. If one of the legs is shaky, down goes the stool.
The first leg of the reference-stool is Authority. You want to choose the most credible reference-givers you can find. Each one should be able to speak specifically about your skills and your accomplishments.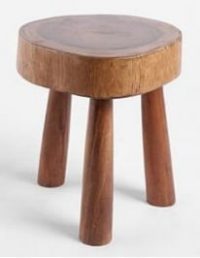 It's no good to have a very highly-placed executive as a reference if that person can't remember who you are, or has almost nothing to say about you.
A more recent manager is a better choice than a manager from the distant past. A manager who worked with you for a long time is better than one who managed you for just a few months. A manager who recruited you from another company and then brought you along to her next assignment, is golden!
You must ask yourself: Is this person an authority on me and my work?
The second leg of the stool is Availability. Your reference-givers can only help you if they can be reached! Don't choose someone who is always on the road or is slow to return messages. Not only can a reference-giver who can't be located slow down your hiring process, but that person's delay in responding can be misread as a lack of interest in recommending you!
The third leg of the reference-choosing stool is Appropriateness. Think about your past managers this way: some of them are really friendly people. You'd go out for a beer with them any time. But that doesn't mean you'd hold them out to prospective employers as your professional references. Maybe they are a little too casual on the phone. Maybe they'd start telling stories about how much fun you and the gang had while working on that trade show in Christchurch. Remember that the people you choose to be your reference-givers also reflect on you.
The people you ask to supply job references for you should be articulate and comfortable on the phone. They don't have to be stuffy corporate people, but they can't pepper their conversation with "Dude" and "Righteous" either. Not unless you're applying for work in a surfboard manufacturer!
There are a couple of other points to consider in choosing a reference. If you left your last company on bad terms and you hate the management team, there won't be any good choices among that crew for your reference-givers' list. But perhaps you can find a manager who also left the company and will therefore feel free to say nice things about you. If you absolutely can't get a supervisory reference from a given company, get a co-worker or a customer to vouch for you. Employers look askance at people who can't find a single person in a firm who's willing to recommend them. And who can blame them for that?
Every time you change jobs, you must "refresh" your references and ask for their help. Tell them a bit about the position(s) you're seeking so that they can speak to your abilities in that particular arena. Don't ever, ever give out a reference-giver's name without permission and without alerting him or her that you've done so. I got a surprise reference call like that, not long ago. I had a very hard time finessing the call because I'd had no time to prepare or remind myself exactly what the job-seeker's (my former employee's) skills were. Ouch!
Choose your reference-givers carefully. It DOES make a difference in your job search. Once, I sat in an executive's office and heard him giving a reference for a colleague of ours who had recently decided to change careers. As I listened, my heart was in my throat. This exec was giving the worst reference ever! Every other word was "Dave's a great guy, but he has this weakness and that one and this other thing…" Afterwards, I said "Joe, I hate to say this, but you really shouldn't be a reference-giver for Dave!" He did not realise how negative his comments were. One thing I can bet on: Dave did not get that job.
References are a late-stage, important step in your job search. Make your references count!
Adapted from an article by Liz Ryan
Practical Job Search Advice